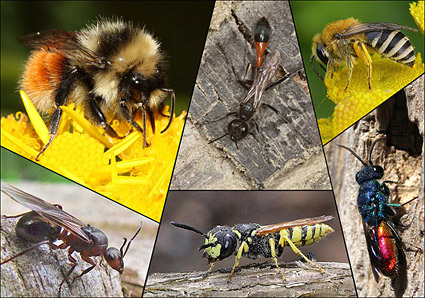 Clock-wise from top left: Bombus monticola - Nick Owens;
Ammophila sabulosa - Bernhard Jacobi; Colletes daviesanus
- Jelle Devalez; Chrysis ignita/impressa - Nigel Jones;
Philanthus triangulum - Keith Balmer; Formica rufa - Neil Robinson
Bumblebees
Bumblebees are a well covered group, with several useful guides available. With the wide availability of identification guides, bumblebees are a popular group for beginners to start with.
 
Edwards, M. & Jenner, M. (2009). Field Guide to the Bumblebees of Great Britain & Ireland.  Ocelli Ltd.
This is an excellent guide that is easy to use and to carry in the field. It contains a quick colour pattern key to UK species, plus colour photos of all the UK species.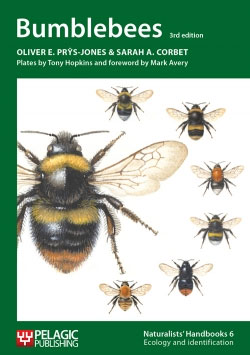 Prys-Jones, O. E. and Corbet, S. A. (2011 - revised edition). Bumblebees. Pelagic Publishing.
Another small and easy to carry book. Perhaps not as easy to use in the field as Edwards and Jenner's book, but still a very useful guide. Contains full, illustrated keys.
Benton, T. (2006) Bumblebees, Collins New Naturalist Library: 98, Harper Collins. Contains an excellent key to, and descriptions, of British bumblebees.
Warwickshire's Bumblebees by Steven Falk (2011), available as free download from this website, contains many excellent photographs and identification tips for most British bumblebees.
Steven Falk has also made an extremely helpful Bombus section on his Flickr pages. This includes many images and helpful field identification hints for 23 of the 24 UK species.

There is a useful online identification guide - Paul Williams's web site at British Bumblebees
General
Glossary: One of the toughest challenges often faced by hymenopterists is understanding the immense variety of terminology used to describe the characteristics of hymenoptera. Fortunately, BWARS member Robin Williams has produced an excellent publication that covers most of the terminology:

British Hymenoptera : glossary for use with identification keys.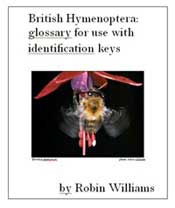 Robin Williams, Kyntons Mead, Heath House, Wedmore, Somerset, BS28 4UQ
Price: £14 including post and packaging (UK).
Wilmer, P. (1985). Bees, Ants and Wasps - A Key to the Genera of the British Aculeates. Field Studies Council. An Aidgap tested key.
A useful key to genera of British aculeates.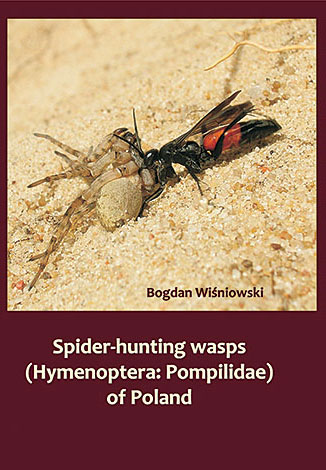 Other resources
Test keys and other identification resources are available as free downloads on the Identification guides page.