Formica rufa - red or southern wood ant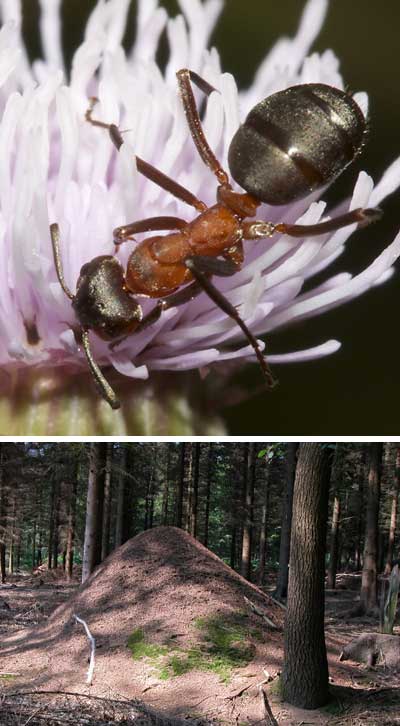 In the south, wood ants nesting in distinctive large mounds of small twigs and other vegetative fragments will be Formica rufa. Wood ants found further north could be F. lugubris or F. aquilonia and these are not easy to separate from F. rufa. To be sure you have F. rufa a record should be from one of the counties south of a line from the Severn to the Wash as listed here: Bedfordshire, Berkshire, Buckinghamshire, Cambridgeshire, Cornwall, Devon, Dorset, Essex, Gloucestershire, Hampshire, Hertfordshire, Huntingdonshire, Isle of Wight, Kent, Middlesex, Norfolk, Northamptonshire, Oxfordshire, Somerset, Suffolk, Surrey, Sussex, Wiltshire. Wood ants found further north may need expert help to determine the species.
More information on Formica rufa
Photos by Rosemary Winnall
above: F. rufa worker caste.
below: F. rufa large nest mound.